BioreclamationIVT is now BioIVT
We are pleased to announce that in early 2018, we will be undergoing a significant brand refresh. As such, we will be transitioning from BioreclamationIVT to BioIVT. Throughout this process, we will continue to focus on our key objective which is to provide researchers with the best tools to help them achieve their product development goals.
While our name has shrunk, our company has grown with many acquisitions over the past few years.
We have expanded our market-leading portfolio of high-quality biospecimens and value-added services. With a new unified brand, we can deliver a more seamless experience and greater visibility into the products and workflow solutions that we offer.
Throughout this process, we will continue to focus on providing you with the best products and services and act as your research partner in ELEVATING SCIENCE®.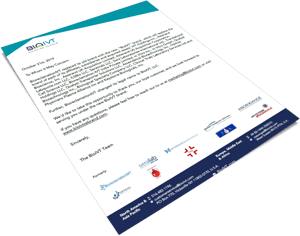 Download this letter if you need documentation
for any of your purchasing systems or departments.
If you have any questions, please email us at marketing@bioivt.com.
Sign up today to receive BioIVT updates and announcements!