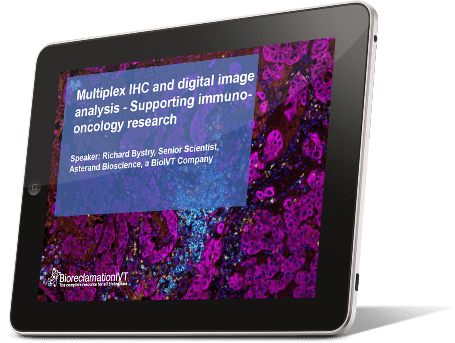 Hear Richard Bystry, Senior Scientist, BioIVT, give an expert introduction to Multiplex IHC, with a focus on the integration of the Perkin Elmer Vectra Polaris system.
Learn about how the generation of high content data derived for complex diseases such as immuno-oncology, from small and/or limited research samples and clinical biopsies, facilitates a deeper understanding of the tissue microenvironment from an individual patient/disease/tumor standpoint.

Learn about:
Key concepts of mIHC with integrated digital pathology analysis
Impact on the design and interpretation of studies on the microenvironment and therapeutic interactions
How to integrate mIHC into your biomarker discovery/validation and companion diagnostic plans
Fill out the form to download the webinar recording and slides.